PalletGUARD - Pro Sleeve System – the intelligent and returnable packaging solution.

Nilkamal presents PalletGUARD Sleeve System, the most secure and versatile packaging solution.

The intelligent space-saving unit is comprised of 3 parts – Lid, Sleeve and Pallet - designed to store and transport loads of up to 800 Kgs. PSS can be completely collapsed when empty for efficient reverse logistics.

The injection moulded Lid and Pallet deliver high strength and load carrying capacity without increasing the weight of the packaging. The scientifically designed walls and ribs provide larger internal dimensions and carrying capacity. PalletGUARD Lid and Pallet are designed with a 3 runner base for stable stacking and compatibility with all standard forklifts for easy handling.

The Sleeve, made from Nilkamal's BubbleGUARD with a unique honeycomb core, offers a combination of high physical durability and ultra-low weight. It's impressive impact and compressive strength due to air-lock technology keeps damage at bay during rough transportation.

The robust unit is quality tested for 1000+ cycles to provide an outstanding cost-performance ratio per use. Replacement Sleeves are available to further extend usage. Precise dimensions as per international standards ensure the pallet sleeve system can be easily integrated into your existing supply chain.
Key Features:
PalletGUARD Sleeve Systems are available with a wide range of features ensuring a solution designed to meet every requirement.

1. Front and Back Flap for easy access
2. Secure-Lock
3. Internal partitions and fabrication
4. Flat closed edges for safety
5. Variable height and size
6. Logo or corporate branding
7. Document pouch
8. Velcro flap lock
9. Inner lamination or soft trays
10. Trip-tracker
11. 3 runner pallet base with access from all sides
12. 'M' or 'Z' folding for optimal return

Super Space Saver
The intelligent space-saving collapsible design provides up to 5x freight cost reduction during reverse logistics.



Technical Info:
| | | | |
| --- | --- | --- | --- |
| Pallet Dimensions* | Inner Dimensions | Loading Capacity** | Max Stacking |
| 1200 X 1000 | 1135 X 935 | 500 KG | 3 (1+2) |
| 1200 X 800 | 1130 X 730 | 400 KG | 3 (1+2) |

- Other sizes available on request.
- Loading capacity will vary with stacking height.
We welcome enquires for the PalletGUARD - Pro Sleeve System. Do write to us at bgsales@nilkamal.com to know more about PalletGUARD - Pro Sleeve System.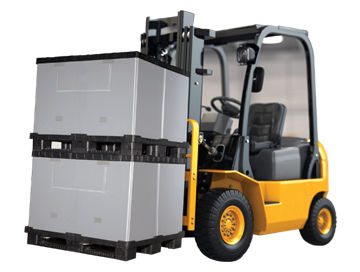 See the video and brochure below for a demonstration of how to use Nilkamal PalletGUARD - Pro and its multi benefits
Download Brochure